The Premier League is here again. The new season will open the match between Brentford and Arsenal, but we look a little further and try to rank the top 6 clubs in the final order. Who will stop Manchester City from taking the 4th championship in 5 years (and the first for the 100 millionth Jack Grealish)? Champions League winner Thomas Tuchel, who now has Romelu Lukaku? Liverpool with a healthy Virgil Van Dyck or Manchester United with a star boost?
Will Leicester break into the top four this time? And then there is Rafa Benitez's Everton, Arsenal and Tottenham with a new coach and the belief that Harry Kane will stay.
I always drown for the underdogs, but this season, the top 6 will finally be taken by the top 6 teams – the world is returning to normalcy, and football with it. The title will be contested by Chelsea and City, two teams with an excellent selection of attacking players, and the stronger will be the one in which the coach does not go crazy with the prospect of trying each of them in a new position. Liverpool will make the Champions League, but will release either Salah or Mane at the end of the season, and Arsenal's only win will be a finish higher than Tottenham – it's time to return those glorious times.
Two of the three newcomers to the Premier League do not look very competitive, especially since Norwich has sold the magnificent Amy Buendia to Aston Villa, and Watford, for some reason, still counts on Troy Dini in the attack. Palace held out in the Premier League thanks to Roy Hodgson – and with a coach who is totally different from him, they will have a sudden success or a deafening failure. I once saw Vieira at the helm of New York City and with David Villa in the squad miserably lost a 0-4 derby to the New York Red Bulls, so I tend to fail.
Top scorer  While Harry Kane is playing in the Premier League, I will wait for him to score – do you understand that he is chasing Alan Shearer's top scorer record, like Ovechkin for Gretzky, and will not stop until he beats him? Kane is currently in seventh place (167 goals), and at the end of this season will be in third – behind Shearer (260) and Rooney (208). If only he would quickly resolve matters with his transfer and start playing. 
A player to be watched . Did you watch Man United last season? And what about Roma in Serie A? Then you know how brightly light up players who were once unlucky enough to face Jose Mourinho. So I am confident that Dele Alli will return to life this season, but I will be even more closely watching Matt Doherty, one of the best wingbacks in the league, who will again work with the coach who revealed him.
A random prediction that turns out to be reality:  Lingard will not score a single goal for Man United. Sorry Jesse, it's just not your team. Rent out in winter – I promise I'll take you to fantasy.
The forecast turned out to be very cautious: the Champions League four remained the same as last year, only the positions changed.
I don't believe in the destruction of this top-4: City, Manchester United, Chelsea and Liverpool have not lost their quality. Even the loss of Wijnaldum, Klopp compensates for Fabinho's return to midfield – no longer needing to cover the bare center of defense. 
It seems that everything is clear with the top 4 – more will have to explain the rise of Arsenal from last year's eighth place to the zone of at least some European cups. Firstly, because in 2021 the team was fourth in the Premier League – the failure in the first part of the season prevented to get higher. Secondly, Arsenal is logically, albeit expensive, strengthened by Ben White from Brighton .
Below are Southampton with no top scorer, Crystal Palace with half their squad and coach Vyyer, Watford with Tom Cleverly.
Player to watch out for: Jadon Sancho. Even in the relatively disastrous 2020/21 season for himself (the team's feverish game, Favre's dismissal, melancholy due to the failed transfer to Manchester United), the Englishman gave 8 + 12 in the Bundesliga. Will he be able to transfer such numbers to England? 
A random prediction that turns out to be reality : United will score 7+ goals from corners and indirect free kicks. Standards are the pain of Manchester United in recent years : they concede an awful lot (19th in the league), score average, although they also create terribly (the same 19th place).
In the summer, United brought in Eric Ramsey, a standards specialist who has served at Swansea, Shrewsbury and Chelsea U-23. There is a belief that he will teach Bruna to hang on Maguire, and Shaw – not to forget the skills from the national team.
I do not remember that four clubs fought for the title in the Premier League at once (only two confrontations remained in my memory: Arsenal and Manchester United in the early years of Wenger, Chelsea and Manchester United after the arrival of Mourinho, City and Liverpool in the era of Klopp and Pep), but this season I will bet on this option. Therefore, I admit that the four will look different from my forecast – but no one else will definitely seep into it (sorry, Dasha Konurbaeva and Leicester).
I put those who finished last season more convincingly and had to add in a natural way: City – due to the arrival of Grealish (part of the creative load will decrease with KDB), Chelsea – due to teamwork within the Tuchel system (and implementation, which should But one day to bounce back, Timo!). At the same time, I continue to believe in Solskjaer and Klopp, but there are a couple of questions for them. The main ones are the balance in the star-filled attack of Manchester United and the state of Van Dyck after a severe injury. If they are resolved, then at least a fight for the title will be imposed. 
Patrick Vieira's coaching talents are not yet overwhelming, so it is doubly surprising that he was called to rebuild Crystal Palace, which by the end of the season had expired contracts with half of the team.
At Watford, the coach is also embarrassing – Hisco Muñoz has only his second independent job and the first in the top 5 leagues. After leaving the Premier League, the team retained many leaders, but now this roster looks even more unconvincing than a year ago. The good news is that you can follow Ismaila Sarr (the conqueror of Liverpool also shone in the Championship).
From Norwich, as always, I expect a nice game (especially at the start – their trademark feature with any coach) and, as always, relegation (well, their feature is also a feature with any coach). The last three seasons in the Premier League ended just like that.
Player to watch out for: Virgil Van Dijk. I wonder what form he will return in and what impact his return will have on the team. Yes, yes, not only has he influenced Liverpool's progress in defense (let's not forget about the goalkeeper issue and the Klopp system), but his importance was enormous – last season was further convinced of this.
A random prediction that turns out to be reality:  Raheem Sterling will earn the most penalties in the Premier League. They have already promised to take a closer look at him, but after such a summer, the achievement will be especially funny! Moreover, there are arguments – Sterling has been in the top five on penalties earned in four of the last five seasons, and Jack Grealish has arrived in City – another master of sharpening passes that Raheem will be able to respond to jerks.
I'll bet on Liverpool, because Klopp taught me that he is capable of a miracle. Last season, without Van Dyck, the team flunked a third of the championship, but still heroically made it to the Champions League. Now the VVD is back, some of the players had a rest in the summer. Why don't the team return to the previous rate of scoring.
In general, it feels like anyone inside the top 4 can become a champion. It depends on a bunch of factors: adaptation of newcomers, pace at the start of the season, injury. For example, Guardiola suddenly won't be able to quickly build Kane into the squad. Or rivals will find Tuchel-style vulnerabilities. Or Manchester United's Bruno Fernandes gets injured. Everything is possible – that's why it's interesting.
As for the rest of the six teams, Leicester will be firmly established as England's fifth team. Arsenal and Tottenham are waiting for another season of tough restructuring, they can not be believed at all. Therefore, the sixth will be Everton with a good lineup and a wonderful and pragmatic Rafa Benitez.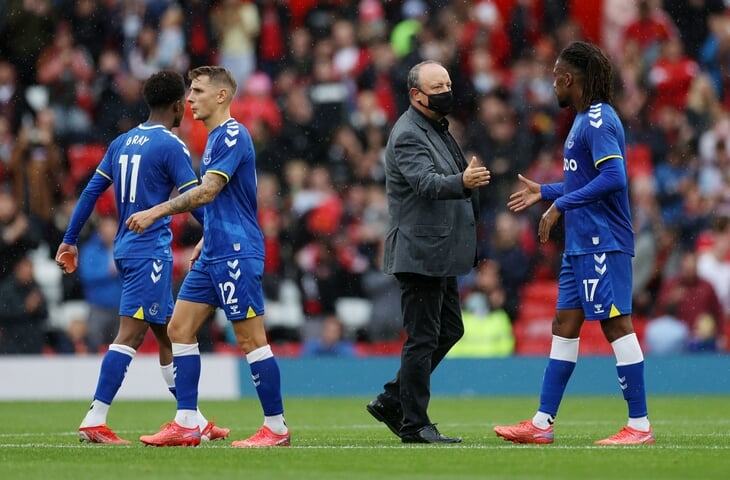 Crystal Palace's last place is what must happen to a team that is losing 10 first-team players in the summer, spending £ 45m on a pair of young Englishmen and Joachim Andersen. And, most importantly, replaces Roy Hodgson with Patrick Wiyer. The Frenchman was a legendary footballer, but as a coach he is not convincing at all.
Burnley didn't score 40 points even last season. Sean Dych's team was fortunate that there were three even weaker teams in the Premier League. There is no serious strengthening – I hope that the original gang will not fly out, but so far I do not believe in them at all.
Well, I think that one of the three who made it out of the Championship will fly out. There may be Norwich and Brentford, but for some reason it seems that Watford will go back.
Player to watch out for: Liverpool's Harvey Elliot. This guy was impressive a couple of years ago when he came out in the League Cup at 16 against Aston Villa's near-base and was the brightest on the pitch. Harvey had a bright last season at Blackburn (7 goals, 11 assists) and is now one of Klopp's best preseason. I look forward to a breakthrough from him!
A random prediction that turns out to be reality:  Liverpool will fall into a hole in January-February. Klopp always had a winter crisis – except for the near-champion and champion seasons. 
The best four in terms of resources has been formed – it stands out too much for someone to crawl between the top clubs again and hold out in the fight against them almost to the end.
It is difficult to allocate seats. None of the predictions of Manchester United are even on the second – it looks like we, by the inertia of the post-Ferguson period, greatly underestimate United (finish in top-3 and top-2 with Solskjaer). Cool signings don't hint that Manchester United will slide down. On the contrary, the club should seriously participate in the championship race.
And it should be cramped there.
Manchester City are the favorites to have won the championship three times in the last four years. And who added a $ 100m player to the roster. But if you can't steal Kane from Tottenham, I'm wondering if Pep's no-forwards system will work as well as last season? The championship was convincing, but by Guardiola's standards, the attack was still sagging.
Chelsea had a mega-striker just in time. All in all, it's amazing how Tuchel turned Chelsea upside down (and took a couple of trophies along the way) – it's a team that is incredibly difficult to beat unless you're Sam Allardyce on an extremely lucky day. I wouldn't be surprised if Chelsea don't lose to anyone in the mini-league from the top 6 clubs (yes, I also watched the UEFA Super Cup and saw vulnerabilities). Tuchel's system only promises to improve.
"Liverpool"? A team that recently finished with 97 and 99 points can only fail if there is too much trouble. Here, I hope, all limits have been exhausted.
Farewell to Southampton is a prediction that one does not want to believe. But the disappointing second half of last season is compounded by the loss of leaders: Ings at Aston Villa, Westergaard almost at Leicester, where Bertrand has already left, and Ward-Prowse began to flicker in the transfer news. I really respect Soton for trusting Hasenhüttl after 0: 9 (twice), but I'm afraid that the club simply won't have enough squad power for a quiet life.
Dramatic departure on the last round – hell, that would be so sad.
Norwich's situation is similar: the club left the coach after a hopeless departure and returned, retaining faith in their principles. This is a beautiful example for an industry that doesn't have many similar solutions. But the chances of survival are small: Norwich sold the main star – Amy Buendia (by the way, also to Villa) – and did not strengthen so that we do not remember previous attempts to stay in the Premier League.
Watford are the bookmaker's contender to be eliminated on par with Norwich. I admit that they will finish a little higher due to a more pragmatic approach.
Player to watch: Emiliano Buendía was Norwich's brightest player last time in the Premier League. Now they are not together. Amy has ripped up the Championship, is no longer shy to score and should replace Grealish at least for Ollie Watkins, who knows exactly what to do with cutting passes.
A random prediction that turns out to be reality: Ederson will score. The Man City goalkeeper has overly pronounced qualities, and his desire to score is talked about so often that it should become a self-fulfilling prophecy. Penalty kicks seem like the easiest way, but I don't believe that Pep will still deviate from the principles. Rather, it will be a strong goal kick – well, something like Paul Robinson's goal to Watford, with a rebound from the lawn. Or maybe Alisson's heroic variation – while the goalkeepers of Liverpool and City have 2 scoring points each in the Premier League (1 + 1 and 0 + 2). 
To put Chelsea first last season made me sympathetic to Lampard. Now: Tuchel, who spent his first full preseason with the club and, apparently, got Lukaku, – and a naive desire for the champion to change every year, and it would be good not between City and Liverpool.
With all the optimistic purchase of United and their race after the neighbors until about the middle of last season, I still think that the coaching genius of Solskjaer is some great fraud that we have not yet revealed, and after Euro Olya will have to think more about the psychology of her penalty takers than tactics. Liverpool are too quiet in the transfer market, and their legendary trio are on the offensive [can this turnover be used anywhere other than Paris now? e place for the Klopp gang.
Leicester will traditionally trample in the top 4 and collapse beyond its limits closer to the end * sobs * .
It's tempting to put someone interesting like Leeds in the top-six, but it seems to me that at least one North London team will not allow itself a deafening failure for the second season in a row.
With the top three to take off, everything is more difficult: it is most likely to keep all three newcomers in the Premier League, but I am very sympathetic to Norwich [the city, although the team too] and the new Brandford stadium. It is almost as hard to believe in the wonderful transformation of Palace under the leadership of Vieira as in the fact that Michael Ashley will sell the club and everything will work out for Newcastle, so in 2022/23 we are going without the English north and London south.
Player to Watch: The Leicester Herald is online, so I'm curious if the Patson Duck, bought from RB Salzburg, can delight King Power as much as Vardy.
A random forecast that turns out to be reality: we will start and finish the season with full stands. The Premier League is determined to comply with covid protocols more seriously than the British government, and will do everything to ensure that the stadiums are no longer closed.
Vadim Lukomsky, never ceases to root for Arsenal
The four teams were clearly better than those ready for the season, looming quite clearly. The only question is in places. My favorite (with a small but tangible margin) is Man City. To compete with them at a distance, you need something unique, but City will become even more varied with the arrival of Jack Grealish.
The rest of the positions for the team secured extremely uncertainly. I think there will be a very tight fight. Liverpool are still super, if there are no billions of injuries and abnormally terrible implementation. Chelsea will develop within the framework of Tuchel's football (there is where, despite the fact that they have already taken the Champions League). "MU" has grown magnificently.
It is difficult to imagine a scenario in which something will break the four, but the main contenders are clear – Arsenal, Tottenham and Leicester. The most mature and cool seems to be the team of Brendan Rogers – if they do not lose the leaders, I would even venture to put them in 5th place. Arsenal or Tottenham? It's difficult, but I really think that Arsenal have a slightly higher chance without European cups and with a powerful second half of last season than Tottenham with Nunu's restructuring and a disgruntled Harry Kane.
The struggle for survival is traditionally difficult to predict. I look forward to a stubborn struggle and a season without a dead team at all. Who will fly out after all? Let there be such a trio: the panicking and unsuccessfully changing coaches "Watford", cheerful, but corny not strong enough in the composition of "Norwich" and started an adventurous revolution, "Crystal Palace".
Player to Watch: Billy Gilmore at Norwich. The Scottish Busquets were among the team that played with clearly the brightest style in the 2020/21 Championship. It will be harder to attack now, but as Norwich's past Premier League cameo shows, Farke does not hold down players and almost sacrifices his style, even if it does not lead to results. I think Gilmore will progress in such a system.
A random prediction that turns out to be reality: Timo Werner will score over 15 goals. He will enter the new season with a fresh head from Thomas Tuchel, who perfectly understands his strong qualities. Add to last year's number of chances and you have a great campaign. True, the likelihood of this scenario will decrease slightly if Chelsea squeeze Lukaku's transfer.
Denis Puzyrev, author of extensive research and author of the Urban Hymns blog , has been a West Ham fan for over 20 years
The favorites of the Premier League from year to year are all the same, and one should hardly expect surprises from the starting season. I'll bet on Chelsea. Thomas Tuchel in the second half of last season showed that he is ready to give results without swinging. At the same time, success in the fight for the Champions League zone was achieved without a hammer-in striker, Timo Werner did not turn out to be such. But now Tuchel has an ace – Romelu Lukaku, who is only 28 years old (and it seems that at least 35 – he has been playing at the top level for so long) – the very dawn for a striker, as if created for the Premier League.
Manchester City, of course, will not give up the title without a fight. But it seems to me that the loudest transfer of City may have the opposite effect of what was expected. I mean Jack Grealish. There is no doubt about the level of the player and his football talent. However, will he be able to painlessly fit in after Aston Villa, where he was the captain, the main superstar and the center of the world, and in a rather specific position of a flank player with playmaker functions? History shows that not everyone succeeds in such career turns.
The second risk for City is the lack of an alternative to Fernandinho in the important position of the defensive midfielder. Rodri – looks worse here, and Gundogan is more useful in the position above. The Brazilian veteran was fine last season, but he's 36 now.
I would risk moving West Ham to the top 4, although most experts do the opposite and put the club from East London in 9-10 place. Their arguments are rational: a short bench with an increase in the number of games due to participation in the LE and the absence of large transfers. Everything is so, and resources may really not be enough. However, there is still half a month left before the transfer window closes, and there is still time to strengthen the squad – to play for the second season in a row with a single forward, even such a beast as Michael Antonio, at this level is simply indecent.
The main contenders for elimination will traditionally be the three teams that have risen from the Championship. But I would venture to suggest that this season for the newcomers will be more successful than the previous one, when two of the three new clubs left the league. The fact is that in the Premier League there are clubs that are moving along a downward trajectory – if this trend continues (and everything speaks for this), they may well end up at the bottom of the table.
We are talking about Crystal Palace, which gave up a very risky and unobvious bet on Patrick Vieira, who had previously failed his job at Nice, having more resources than at Palace. And the cute Burnley. Sean Deitch's old school football cannot but arouse the sympathy of fans of British classics, but there seems to be no surprises left in his arsenal with which to surprise. One hope for defense, where goalkeeper Nick Pope and a pair of Mi – Tarkovski are gods. But is this enough for salvation? There are doubts. As a rookie, I will send back to the Championship Norwich, West Bromwich's main rival for the title of Britain's fastest elevator.
Player to Watch: The biggest breakthrough of the season is coming from two players – James Maddison and Said Benrahma. But if everyone already knows everything about the potential of Leicester's top ten, and the summer vacation and the fact that the England national team is not included in the Euro squad should add some sports anger to the 24-year-old midfielder, then Benrahma's performance, it seems to me, may come as a surprise to many …
The Algerian was considered a star in the Championship, but the transition to a new level in the second half of last season was given to him not without problems. Moreover, the root of the problems was in psychology – the attacking midfielder of West Ham demonstrated technical equipment and physical training, but he managed to score his first goal in the Premier League only at the very finish.
West Ham's offseason friendly matches have shown that Sayid is finally ready to show his best. Confidence appeared in his game, he was not afraid to show leadership qualities, tearing apart the midfield of the league champion Atalanta. In general, take a closer look at this guy, he is capable of a lot.
A random prediction that turns out to be reality: Lukaku won't score against West Ham. When rumors about the return of the big Belgian to England became a reality, the social networks of West Ham fans were gripped by despondency: there seems to be no football player who has caused them more suffering than Romelu. He has always scored against West Ham, regardless of form and club affiliation. I just put goals in every match. A real spell. But any series ends at some point. And I would venture to bet that this time the defense, led by Rice, will be impregnable for this murderous ram.
***
Your turn:
Premier League Champion 2021/22? Man City 24%, Chelsea 25%, Liverpool 18%, Man United 25%, Arsenal 5%, Tottenham 2%, Someone else one%